I'm posting this mostly because it is an epic piece of work for me. I have literally spent nearly a decade (with a lot of down time, I assure you!) working on this sporadically. I think I bought this cross stitch kit when I was in high school, and it has traveled with me to college and now to my job with me.
There was sixteen thread colors, most of them shades of blue. As a difference from previous things I've done, this was solid stitching with no utilization of the blue fabric. Finished, the stitching portion is 10" x 12". The Aida cloth was 14 count, which means 14 squares/inch of fabric. Also newer to me was the "tweeding" of colors, meaning strands of one color and strands of another used together with one stitch. Also, there was the use of "filaments," shiny strands. These were harder to work with, more prone to breaking and kinking.
I finished most of the stitching itself a couple of years ago, and was dismayed to find that the embroidery portion of the instructions, well, frankly, sucked. They were hard to decipher and figure out. I ended up doing my best guess work on most of this.
There's also the fact that due to how it was bundled and how much younger I was when I started this, I think I mixed up two shades of blue that were close together. While this doesn't seem to have affected it too much, it does make it a bit unique. I also ran out of one color, and since the thread wasn't labeled in the easily acquired DMC, I had to find the next closest shade. I did a good job, I think, and I doubt that anyone would really notice that a portion of the sky is slightly different.
Onto the pictures, before I bore you any further!
The front: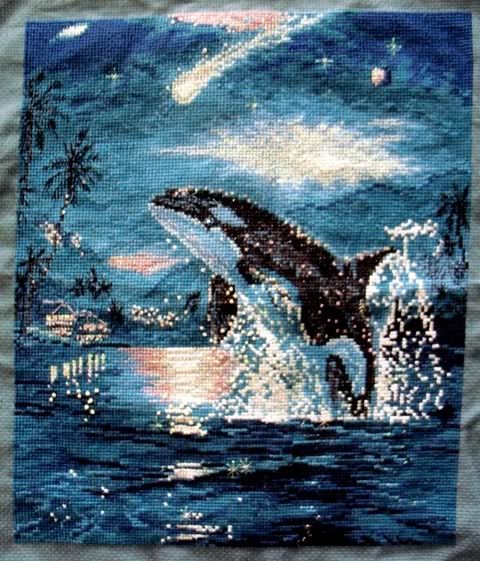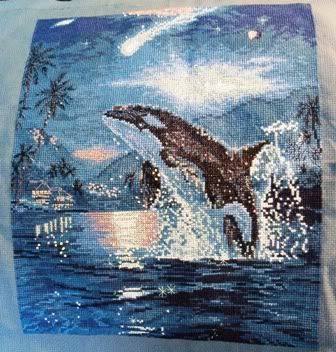 Detail shots:
The whale –
The sky –
The back: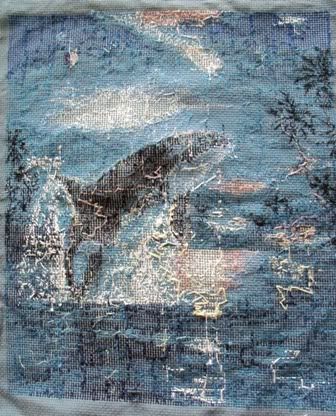 I'm planning on framing it and the dolphin one I did years ago, in same frames so someday I can put them on the wall together :D