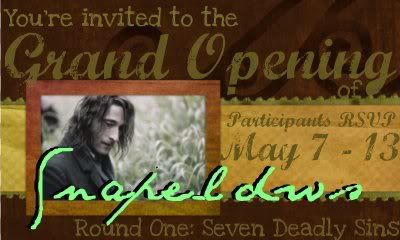 Severus and friends at
snape_ldws
cordially invite you to watch or participate in the first round.
All variations of Snape-love (gen, het, or slash) are encouraged, and welcome!
Sign ups begin May 7.
Round starts May 15.
(I really hope you're interested. Because, well, I'm modding it--with the awesome help of
pokeystar
, who I couldn't have gotten things together without, and
delayed_poet
who has done all the beautiful graphics.)
Please feel free to pimp this, even if you're not going to participate.